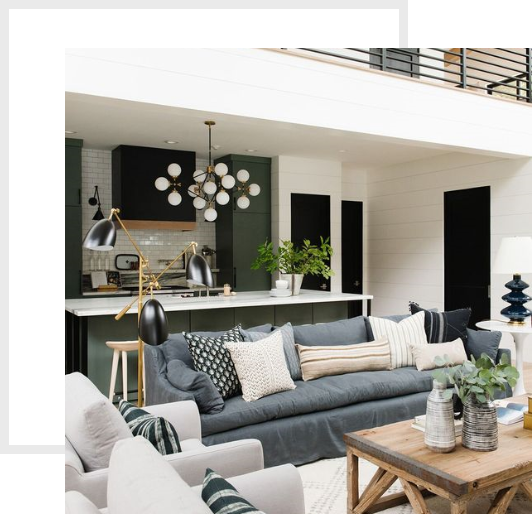 Best Interior Design Company in Dubai
Full-Service Interior Designers & Decorators in Dubai
From preliminary analysis to complete interior design tender and services, our professional designers bring along creative, multi-disciplinary work style for a customised home and office interior. As expert interior designers and decorators in Dubai, we promise stunning results that are a perfect fit for your budget, timescale and unique project aspirations.
Our Interior Design Work Stages/Steps
As a professional home interior designer in Dubai, we take on a detailed and holistic approach to ensure each project takes on the limelight. Our steps involve:
Feasibility Study
Preliminary analysis of the property or site is our first step to understand your design ambitions, budget, delivery timeline and safety. Our team works with you to jot-down a detailed brief and categorise your project preferences.
Interior Design Concept
The real beginning of our creative process starts with Concept Design where we propose architectural layouts for your project post-investigation of the finishes, design styles and custom influences. We also create prototype models that describe the real scope-and-depth of work.
Development Scheme
We further dig into the details of the design and development scheme by refining internal layouts, finalising finishes and key materials for furniture, walls and flooring. Our interior development phase also defines lighting and M&E requirements before signing off the final contract.
Technical Design & Detailing
Once we finalise and sign-off the interior design contract, the next step is Technical Design & Detailing during which we outline a connected, coordinated and in-detail technical design and decoration aspects for the project based on possible refurbishment, restoration or even from scratch.
Production & Engineering
Our next step is moving forward with production and engineering of sophisticated finishes and intricate work for FF&E particulars in every area of the property. We will propose a design of the joinery, sanitary and electrical requirement that's included, communicated and agreed-to in the contract.
Project Tender
The tender process begins post-completion of the technical design and detailing. Our professional team works closely with you to advise on the best contractors for essential materials and move forward with the construction programme.
Team Mobilisation
On appointing the contractor, our professional team supervises on the project proposal and make sure all the elements match perfectly to the contract's specialty and suggestion of the client. Each resource is mobilised in accordance to the delivery of interior design work and section of the property.
Construction & Design
During the project's execution and work on site, our team is constantly aligned with the contractors, FF&E supply to guarantee successful implementation of the entire design, installation and commissioning. We ensure perfection in every project undertaken.
Post-Delivery Support
The journey continues as we provide post-delivery support and maintenance to ensure durability and defect-free interior. We also issue a project completion certificate to the client as evidence of successful delivery and quality assurance.

We Have the Solution, To Every Interior Problem

Whether yours is a villa or office interior design in Dubai, we have turnkey solutions for all your project requisites. We are home and office interior design companies in Dubai to offer a range of services that includes:

Space Planning
Fit Out
Refurbishment
Move Management
Furniture
We offer bespoke home and office interior design of international standards for a space you will fall in love with.
Our professional designers and interior decorators breathe new life into forgotten and cluttered space, making them fully functional and contemporary.
From simple storage compartments to unique and stylish concealed walls, give your home and office a revolutionising new look.
Book our interior design service to say goodbye to your wasted and dull space.

Our Interior Design Services

2D/ 3D Design Layout
Civil Space Planning
Residential Interior
Modular Kitchen
Office Interior
Retail Shop & Showroom
Restaurants & Cafeteria
Furniture & Fixture
False Ceiling
Wallpaper & Painting
Glass & Lightening
Water Proofing, POP & Wall Putty
Tiles and Marbles

How to Book with Us

Give us a call, fill out the online form to share your custom design ideas, inspiration and budget for a creative brief session.
Our inhouse interior designers will assemble mood-boards, furniture layout, design and space blueprints.
To give you the actual feel of the final product, we also deliver designs in innovative 3D rendering.

We Design Your Imagination

Our interior design services in Dubai fits perfectly to any budget and caters to any style based on your preference.
Whatever your challenge is? we tackle it with extreme precision and flawlessness.

Amazing Design Meets Modern Technology

We incorporate AI technology to the design projects for advanced 2D/3D visual rendering of your final product for an unforgettable and immersive experience.
Our residential and commercial interior designs have uplifted some of the world's most prestigious brands, exclusive manufacturers and artisans.
For queries and consultation, you can give us a call, fill our online form or chat with customer support representative.

Testimonials

"RTS interior design services turned my house into a home. In the end, it was better than I could have ever imagined. We love it! Thanks to the company"

"Working with the RTS Interior team is like working with glamour, responsibility and commitment. They have what it takes to renovate your home with perfection."

"It's great working with the RTS team on all of our residential and commercial projects here in Dubai, UAE!!! We highly recommend working with them."

Also read: Amazing Home Remodeling Tips on a Budget

FAQs

How much do you charge?

Cost of service depends on the nature of project and total work we will cover. For quotation, give us a call, we will come for free inspection before sharing the final cost.

This is the first time I'm working with an interior design company. How do I contact you for availing your services?

Booking our service is simple. You can give us a call or fill out our online form and we'll get in touch with you.

What's included in the interior design services?

You will first discuss the project details with our professional interior designer be it commercial or residential project. All the aspects and journey from start till final delivery are discussed in the meeting including total cost. On agreement, interior designer is aligned with architects, engineers and other professionals to translate the concept into actual drawing and production.

What areas do you cover?

Our services are exclusive to Al Barsha and rest of Dubai

Can you just pick paint colours for me?

As a luxury interior design company, our services can involve from a full interior transformation to something as simple as choosing the right paint to breathe new life into your existing space. If yours is only a paint selection process, a professional designer from our team will arrive at your location to do the needful.

Do you provide interior design consultancy as part of the service?

Yes, we are also consultants having significant industry expertise in various domains including interior designing. For consultancy and estimation, you can book our free inspection or simply provide us initial brief on call or via online form.

How do I choose between the many interior design styles?

During your initial consultation with an interior designer or interior decorator, you will discuss your likes and dislikes. This will help narrow the field. Photos are also helpful in choosing an ultimate design. How you want to furnish the space, as well as how it will be used can make a difference in style selection.

What services should I expect from my interior decorator?

Your interior designer will provide many services, including but not limited to:
● Colour selections
● Lighting designs
● General inspiration
● Furniture selection
● Product research
● Floor planning
● Product and cost comparisons
● Flooring selections
● Wall and window treatments
● Lifestyle requirements
● Budget
● Accessories

Is it worth it to get interior designing advice and services for a small living space?

An interior designer knows how to use furnishings, colours, and art to make a small space look larger. A strategically placed mirror or light colours of paint can do wonders for increasing visual depth. Additionally, breaking a long narrow room into different seating areas can add dimension. You will be amazed at how well the right idea can turn your small living space into a functional and homey environment.

How do I decide between wood, tile, carpet and other flooring options?

An in-depth consultation with a professional interior decorator about your desires, goals, and lifestyle will yield important answers. As a result, you will be able to determine what flooring, wallcoverings, window treatments, and furnishings will best suit your needs.

When you design a room, what is the most important advice you give?

Think about the primary use of the room, and who will see it. Your bedroom is your haven and should be inviting to you. A living room or dining room that will be seen by many people is where you may want to make a statement. How do you need the room to function for you? People who have very little storage space may want to incorporate pieces of furniture that double as storage spaces. In an open environment, it is essential to have an interior design that flows from one room to the next.