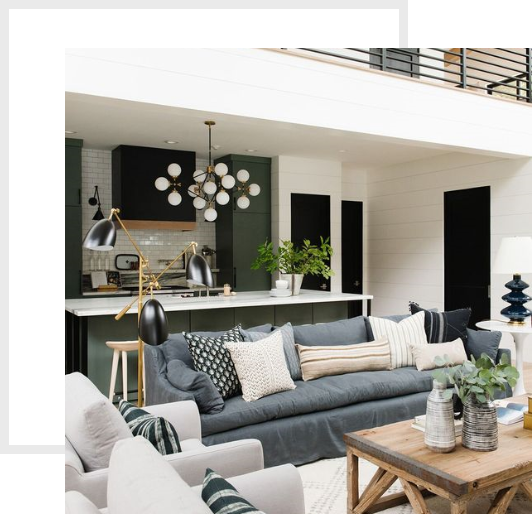 Best Interior Design Company in Dubai
We offer bespoke home and office interior design of international standards for a space you will fall in love with.
Our professional designers and interior decorators breathe new life into forgotten and cluttered space, making them fully functional and contemporary.
From simple storage compartments to unique and stylish concealed walls, give your home and office a revolutionising new look.
Book our interior design service to say goodbye to your wasted and dull space.
Our Interior Design Services
2D/ 3D Design Layout
Civil Space Planning
Residential Interior
Modular Kitchen
Office Interior
Retail Shop & Showroom
Restaurants & Cafeteria
Furniture & Fixture
False Ceiling
Wallpaper & Painting
Glass & Lightening
Water Proofing, POP & Wall Putty
Tiles and Marbles
How to Book with Us
Give us a call, fill out the online form to share your custom design ideas, inspiration and budget for a creative brief session.
Our inhouse interior designers will assemble mood-boards, furniture layout, design and space blueprints.
To give you the actual feel of the final product, we also deliver designs in innovative 3D rendering.
We Design Your Imagination
Our interior design services in Dubai fits perfectly to any budget and caters to any style based on your preference.
Whatever your interior design challenge, we tackle it with extreme precision and flawlessness.
Amazing Design Meets Modern Technology
We incorporate AI technology to the design projects for advanced 2D/3D visual rendering of your final product for an unforgettable and immersive experience.
Our residential and commercial interior designs have uplifted some of the world's most prestigious brands, exclusive manufacturers and artisans.
For queries and consultation, you can give us a call, fill our online form or chat with customer support representative.
FAQs
How much do you charge?
Cost of service depends on the nature of project and total work we will cover. For quotation, give us a call, we will come for free inspection before sharing the final cost.
This is the first time I'm working with an interior design company. How do I contact you for availing your services?
Booking our service is simple. You can give us a call or fill out our online form and we'll get in touch with you.
What's included in the interior design services?
You will first discuss the project details with our professional interior designer be it commercial or residential project. All the aspects and journey from start till final delivery are discussed in the meeting including total cost. On agreement, interior designer is aligned with architects, engineers and other professionals to translate the concept into actual drawing and production.
What areas do you cover?
Our services are exclusive to Al Barsha and rest of Dubai. You can check out all the areas we cover below:
Can you just pick paint colours for me?
As a luxury interior design company, our services can involve from a full interior transformation to something as simple as choosing the right paint to breathe new life into your existing space. If yours is only a paint selection process, a professional designer from our team will arrive at your location to do the needful.
Do you provide interior design consultancy as part of the service?
Yes, we are also consultants having significant industry expertise in various domains including interior designing. For consultancy and estimation, you can book our free inspection or simply provide us initial brief on call or via online form.