Apartment painting is a once-in-a-year job. And you want it to be done in a perfect manner. After all, it's all about your pride – you won't want your friends, relatives, or any other visitor to pinpoint a problem with your apartment's paint.
A well-painted apartment looks cleaner, pleasant to the eyes, and has a perfect color combination that proves to be a mood lifter for you and your family. 
But finding a reliable company or a group of painters for apartment painting in Dubai can take a lot of time. That's where Reliable Technical Services in Dubai can help you out.
 Our trained professional painters not only know how to paint apartments neatly but also offer a free consultation with regard to the paint's quality and color.
Want to have a peek into our apartment painting process?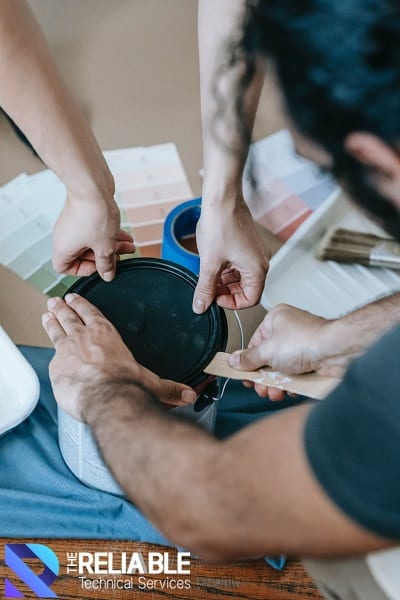 How We Paint Your Apartment in Dubai?
We follow a systematic approach to transforming your apartment with our painting services. It consists of the following nine steps:
1. Planning
It all starts with planning. We never take a step forward until we are clear about our way forward because your apartment's beauty is at stake. Our painters think about how the finished project would look; of course, we note down your desires and the dream look you have envisioned yourself.
And please note that the scope of our project is not limited to four walls or an entire room in the same color. We use a combination of multiple(appropriate) colors to create a tantalizing look for your apartment.
It could be painting an accent wall in a bold hue or highlighting modelings in a contrasting finish. And of course, your say matters in the whole process.
2. Preparing Your Apartment for Paint or Repaint
Once we have laid out a detailed plan of action, we prepare for the job at hand. First of all, we ensure the protection of all the workers involved in the job. Protective equipment for painting is provided to all our workers.
Then, we move all the furniture to the center of the room – or if it's possible, we might have to move it out completely. Don't worry, you won't have to assist us with this, our workers will take care of this pre-painting task.
We'll also remove the wall hangings and set them on a blanket on top of the furniture to protect it. It's important to cover the furniture because a paint spill on it can ruin the beauty of the furniture. Likewise, light fixtures are also removed or covered.
Once everything is covered, our team will inspect the wall for any kind of damage. If there's any, we'll patch the nail holes with a drywall compound. The paint only starts once the walls have dried and all patching has been wiped down.
3. Choosing the Right Painting Tools
The art of an artist depends on the tools he uses. And we understand that. That's why we always use modern painting equipment that not only makes our painters' job easy but also makes it fast and smooth.
Essential tools required for painting an apartment are:
Brushes
Without a brush, you can't paint. And there are several types of brushes available:
Royale thin brush 930
Royale thick brush 980
Smartcare brush 750
Smartcare all surface brush 350
Smartcare all surface brush 320
Smartcare exterior brush 580
We always use solid brushes that have bristles firmly seated in the ferrule. Moreover, it has a tapered end so the shorter bristles on the outside and long bristles in the center really help.
Rollers
The problem with brushes is they can't reach the edges and corners of the walls. That's where rollers come to the rescue of the painters. We buy high-quality rollers for our painters and ensure that they are made to pain the surface they need to.
There are multiple types of rollers used for paint:
Smartcare all surface roller 350
Smartcare all surface roller 380
Smartcare roller 720
Smartcare roller 750
Smartcare roller 780
Accelerators
Accelerators are additives used in traditional one-component and half-synthetic paints to speed up the curing process – without compromising the quality. Accelerators are as important as the paint and the brush.
Some of the common accelerators used are:
Asian paints scuttle
Smartcare painting tray 950
Smartcare extension pole
Smartcare multipurpose kit 700
Smartcare handle 180
Smartcare roller handle 200 
Smartcare roller handle 120
Other Important Tools Used in Painting
We also use some other mechanized tools to get the job done in a sophisticated manner:
TruCare wall sander H-01: Helps in fast mechanized sanding of the walls.
TruCare pressure washer P-01: This mechanized pressure washer washes the surface with a maximum pressure of 180 bar, which makes washing efficient and flawless.
TruCare laser distance meter D-50: This tool helps in mechanized and effective mixing of paint.
4. Color Selection
We will recommend a few colors, but in the end, it will be your say that matters. Choosing colors is a lot trickier than it sounds. But don't worry, we'll help you out according to your color liking.
Generally, we recommend choosing a neutral color that forges an appealing interior designer. You can also choose bold colors that exude confidence. Also, you must read color psychology to understand the emotions associated with each color.
Blue is associated with peace and tranquility, red is a sign of love and danger, and black is a symbol of mystery, power, elegance, and sophistication. In the end, it all comes down to your personal choice.
If you feel confused, we will show you several projects we have completed in the past. By looking at the various paint colors in different apartments, you will be in a better position to decide which color would be best for you.
Once you have made your choice, we will move forward with the painting of your dream apartment.
5. And Here Begins the Painting of Your Apartment
Finally, the skilled team of Reliable Technical services Dubai & UAE will start painting the walls of your apartment. Our painters will start from the edge of the wall and work their way down using smooth, linear strokes.
And then they will paint the out edges of the walls, the phase in which a wide roller comes handy. The number of paints used depends on how deep you want the new color to come out.
Gradually, our team will paint everything from the walls to the doors, windows, etc. (if required). It will take up to 2-3 hours for the paint to try.
The job doesn't end here. Our team will add a subsequent finish layer for the sake of visual interest. We have all the tools to make a proper texture for amplifying the look of your apartment.
The base layer will take up to 48 hours to dry up completely – make sure you or anyone in your family doesn't touch the paint during this duration.
Final Words
Are you going to paint your apartment soon or in the near future? Remember our team; Reliable Technical Services in Dubai and UAE is here to help you out. We are experts in house painting in Dubai and for every project we take we make sure our client is happy and satisfied with our work.