Whether wiring a new house from scratch or undertaking a rewiring project, you need to make sure all your electronics are safe, future-proof/insured and compliant with the latest regulations. To maintain electronics and electrical circuitry that powers up the entire property is one of the most important responsibilities on the owner. This particular duty isn't just limited to safety but also helps in saving significant amount that you would pay against your electricity bill.
From a typical safety perspective, unsafe or faulty electrics can be life-threatening and may result in a serious fire hazard which means you should always keep a close check on the age of electric wiring and everything connected to spot and resolve the problem before it gets any more serious. Here's all you need to know in moving forward with wiring the property in the right and safest manner.
Electrical Work/Project Requirement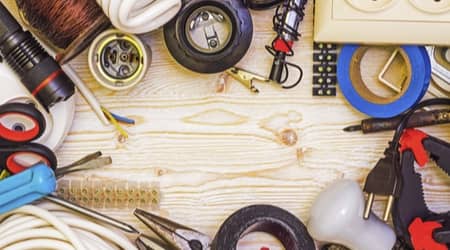 Whether yours is a commercial or residential property, electrical cables and all essential wiring runs under the floor and through the walls which means any work to be done needs the flooring to be lifted off while drilling or breaking into the walls.
Even the smallest of wiring projects can be considerably messy and disruptive so you, as a homeowner or landlord should take all necessary steps to prepare for what's to come ahead! Much like the plumbing and carpentry work, electrical wiring should be completed before painting, plastering and other such concealing task kicks-off. During the wiring task, professional electricians will:
Install new wires and cabling
Replace old sockets, switches and backboxes with new
Install wires and cables to power the telephone, television, internet and connected aerial sockets
Fully install all power and lighting circuitry
Add or move existing switches, lighting fixtures and sockets (only if needed)
Based on homeowner's or client's requirement, install modern electrical technology and smart home automation system (totally optional)
All that said, wiring and rewiring tasks are completed in two stages by most of the professional electrical maintenance companies in Dubai and worldwide.
Necessary replacement of cabling, circuitry, wiring and backboxes is performed.
Installation of lighting fixtures and faceplates on the switches, sockets and electric outlets is commenced with. All the essential wiring is connected to the unit and tested for perfection.
Major Benefits of Wiring
Other than safety and maintaining proper electricity flow throughout the unit, there're functional benefits involved as well. These can be:
Ultimate peace of mind for investing in a safer and possibly sustainable electrical system.
Reduced risk of fire hazard or blowout due to faulty circuitry.
Ensure all the electric components and wiring are compliant with the latest standards.
It significantly increases the property's value.
Freedom to choose new fixtures and fittings (depending on budget and necessity)
Installation of smart-home technology for a more automated experience and going eco-friendly.
The Right Time to Wire & Rewire a Home
For an existing home, rewiring maybe considered after 25-years however, it depends on overall electricity situation, condition of the circuitry, monthly energy bills, safety and other essentials. As for a new home, all necessary wiring and cabling must be done before painting and concealment tasks are performed. Electrical inspections must be performed every 10-years if you live in your own home or in every 5-years should you've rented out the property to someone else whereas in every 2-3 years for commercial property.
There're however a couple of instances that may require rewiring of the property before its due time. Such can be:
In case of unsafe electricity that raises risk or when the wiring is outdated and no longer comply with the latest industry regulations
Should there be frequent alterations to the circuitry, wiring or electrical system or if the existing electrical system is giving a problem in terms of bearing the load, doesn't meet the latest industry standards or is vulnerable to electric hazards.
Indications to Rewire Your Home
Just in case any of the electric powered units and devices are giving problems or are outdated, urgent electrical repairs services are required by professional companies. Some of the common issues can be:
Discolouration or rust-like marks around sockets, plugs and power outlet units
Frequent fuse blowing, constant buzzing or crackling noises that hints towards faulty circuitry or damaged wiring
Burning smell
Constant flickering of the lights and other electric appliances
A Few Professional Tips & Safety Precautions for Wiring
Approach with Extreme Care
No matter the extent of the task, all electrical installation work must be performed with extreme care and precision while in compliance with the industry laws. If you're servicing apartment units, follow building regulations to safely deal with electrical tasks.
Carefully Understand the Urgency of Wiring/Rewiring
Properties that haven't seen any major wiring or rewiring in the last 20-to-30 years need immediate attention, mostly because of the compliance standards, energy efficient options and eco-friendliness. Besides, too old wiring significantly raises the risk of unexpected blowout or fire hazard.
Plan Carefully in Advance
Because wiring and rewiring is a messy work as well as risky, clients should take all necessary precautions and can even move to an alternate property or someone else's home while the task is being performed. This is for ultimate safety and peace of mind for both workers and residents.
It's all about understanding the necessity and safety of the task. Make sure all such work is carried out by professional electrical maintenance company in Dubai or wherever you live per say.
FAQs
How much does it cost to wire a new house?
The average range to wire a new house or apartment is approx $3,000 and $8,000
What type of wiring or cable is used in new homes?
The most common type of wiring in modern houses or apartment is in the form of nonmetallic cable, which consists of two or more individual wires wrapped inside a protective plastic sheathing.