Are you looking for a cheaper option in Dubai to fix your sewer and water issues? If you are annoyed by the tapping water of your broken sink and wondering if it is worth spending so much on getting it fixed, then we have brought detailed blogs about whether you should spend a lot of money on a licensed plumber or you can get your sink fixed by a handyman or handywoman. 
Many people still don't know the difference between a licensed plumber and a handyman. There are several states where it is illegal for a handyperson to perform work that only a licensed plumber should do.
Read on more to find out whether you need to hire a licensed plumber or a handyperson to get your job done and what are the main differences between these two professions. 
What Does A  Handyman Do?
If you are not familiar with the term handyman, then read on to find out. A handyman is an all-rounder that knows how to fix all the minor issues in the house. You can simply search on the google "Handyman near me," and you will get the details of all the handyman services around your place. If you are looking for these services in Dubai, just type on google handyman services in Dubai. After you do so, you will get the contact information and how far a particular handyman near you is from your place. 
A handyman usually has experience fixing problems related to plumbing and other services but doesn't have a license or training. So the work he will do for you will be solely based on experience working and fixing the minor problems around the house.
The decision of whether you should hire a handyman or licensed plumber also depends solely on the job you need to get done. 
When Should You Hire A Handyman?
A handyman is a perfect choice when you need to get smaller projects done. For instance, if you need to get your drawer fixed, a small space painted, or get your window glass replaced, you can save a lot of money by hiring a handyman instead of a licensed plumber. 
When looking for a handyman, you should keep in mind that not all handymen will have the same experience and expertise. As no licensing is needed, you will have many options differing in expertise and services from one handyman to another. 
What Is A Licensed Plumber?
The main difference between a licensed plumber and a handyman is that the licensed plumber will have the required training, license, and knowledge and can be considered a registered specialist. During their training, licensed plumbers are taught about the laws, safety precautions, and business specifications they must meet in order to do the job. Plumbing usually requires invasive procedures in your home. 
So a handyman can help you fix all the more minor issues and maintain things around the house. When it comes to serious issues that you need to get fixed for a longer period and with expert knowledge and experience, you should definitely hire an expert like a licensed plumber. It will be worth the money you will spend on the best plumber. 
When Should You Hire A Licensed Plumber?
Getting an expert to do your work is always great. He/she will not only have the relevant knowledge but will also be familiar with the latest laws and regulations to ensure safety compliance. You can trust a licensed plumber to fix the problems by leaving your home safe and up to code. 
The experts can also provide you with fast and swift services. And if you are in an emergency plumbing situation, then an expert is the right option to go with. If you make the mistake of hiring a handyman for an emergency plumber in Dubai, the chances are that he/she might not be able to do the job properly because of the lack of knowledge.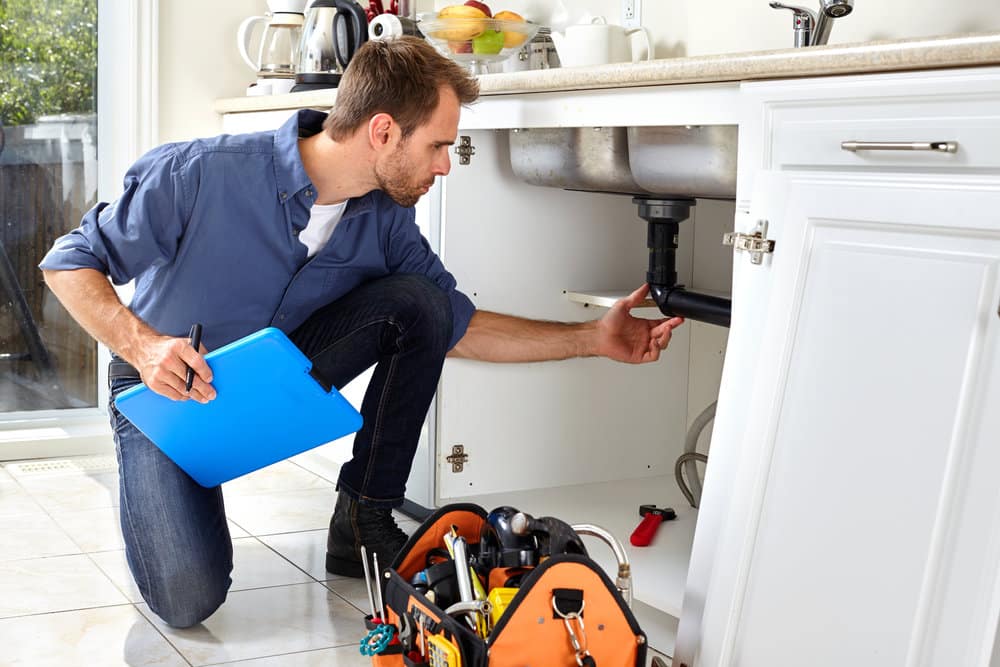 Licensed plumbers get extensive training to work on plumbing emergencies like:
Water leakage
Clogged sewer lines
Burst or leaking pipes
Malfunctions related to hot water heaters
Also Checkout
How to Get Rid of Pink Mold in Bathroom Fixtures
Get Your Problems Fixed With Experts
Why is it essential to hire an experienced and professional plumber? A licensed plumber is required to have experience, ongoing training, and examination. You can be sure that the licensed plumber will get the job done the right way that she/he has taken and passed a state test. So the best plumbers in Dubai or anywhere would be the one who is licensed to do your job. 
Furthermore, an expert plumber will also have legal permission to provide services. While hiring a handyman, you have to look for whether they are even experienced enough to get the job done. 
Is It Cheaper To Hire A Handyman Instead Of A Plumber?
You will definitely have to pay more if you hire a licensed plumber. You will not only pay for the service but the knowledge the expert has for this set of skills. A licensed plumber will provide you with a solution that will be long-lasting and in accordance with the infrastructure of your home. 
Handyman Services in Dubai
If you are looking for handyman services Dubai, we have compiled a list of all the options you can avail of in Dubai. Below is the list of all the services. 
Yalla Renovation 
Metis Home Maintenance
The Reliable Technical Services 
Conclusion
All in all, you can get the job done right with both professionals. When it comes to serious plumbing problems, you should hire a professional like a licensed plumber. An expert will know their way through your home's water system and pipes. But if you are tight on budget and still need to get your issues fixed, then you can hire a handyman in Dubai to save yourself money. 
If you live in Dubai, there are plenty of options for Dubai's best plumbers and handyman services. After reading this article, you can easily make your decision of whether to hire a professional or handyman in Dubai easily.