Perfect Gypsum Ceiling Ideas For your Interior Design
Ceilings have always been an essential element of interior design. Nowadays people love to have false ceilings in their homes. These ceilings come with loads of advantages when it comes to appeal and practicality.
This has made them even more popular. False roofings can be made with various materials. But, gypsum ceiling designs are highly adored by both interior designers and homeowners.
Gypsum has qualities like shiny surfaces, universal designs, cheap prices, and durability. These have made Gypsum a default option for false ceilings in both homes and offices.
If you are searching for some cool and modern gypsum roofing designs for your bedroom, don't skip from here. This article is packed with new and unique gypsum ceiling-style ideas for your beautiful house.
What Is A Gypsum Ceiling?
A gypsum false ceiling is made from Gypsum boards fixed to each other with screws. The craftsmen then treat the joints with a particular jointing material to make the ceiling look uniform and neatly finished.
Gypsum ceilings can be easily installed and don't require as much tidying up as in the case of Pop ceilings. Pop ceilings are made by mixing materials which involves messy processes.
Newest Gypsum Ceiling Designs For A Bedroom
There are loads of new and creative gypsum roofing designs for a bedroom. We will explore the most attractive and trending designs from them.
For a Big And High Bedroom
Do you have a spacious and high ceiling bedroom? Then you have an awesome opportunity to build a creative interior.
A reliable technical services provider can construct a gypsum roofing design with many levels and vivid decor. The decor elements can include friezes, lay rolled cameos, ovals, medallions, and undulating lines.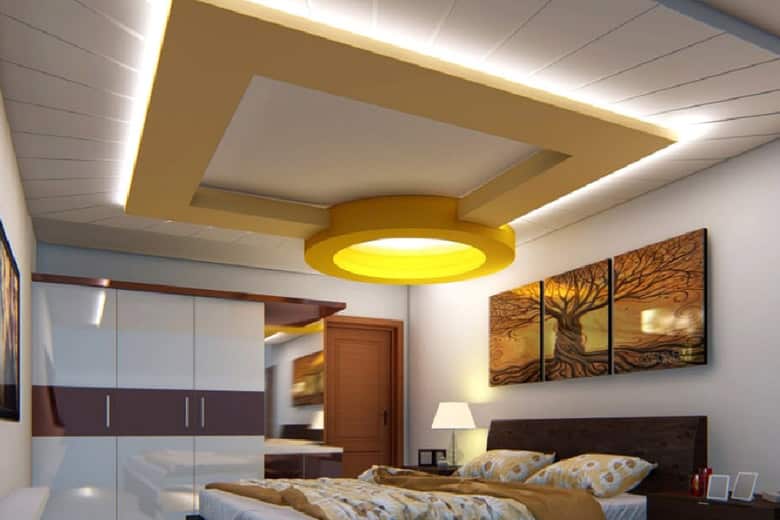 Moreover, geometric shapes on the roofing may be doubled by a pattern of lined or parquet on the ground by a tiny podium.
The ceiling can be split into multiple zones if there is extra space. You can assign those zones for things like a dining table, a house theater, or a barrack.
Also, the gypsum ceiling can be designed and structured in a way that creates height differences. And it can be complemented by local lighting to enhance individual zones.
Also Check out our Latest Blog to Design Your Interior By Yourself using Apps
For a Low and Compact Bedroom
Don't worry if your bedroom is small and packed and the roof hangs low on your head. You just have to go for roofing styles that can hide these shortcomings.
Firstly, no multi-level gypsum roofings. Do you ask the reason? The mound of heterogeneous aspects will make the room look even more crammed. So, one level is sufficient for such a bedroom.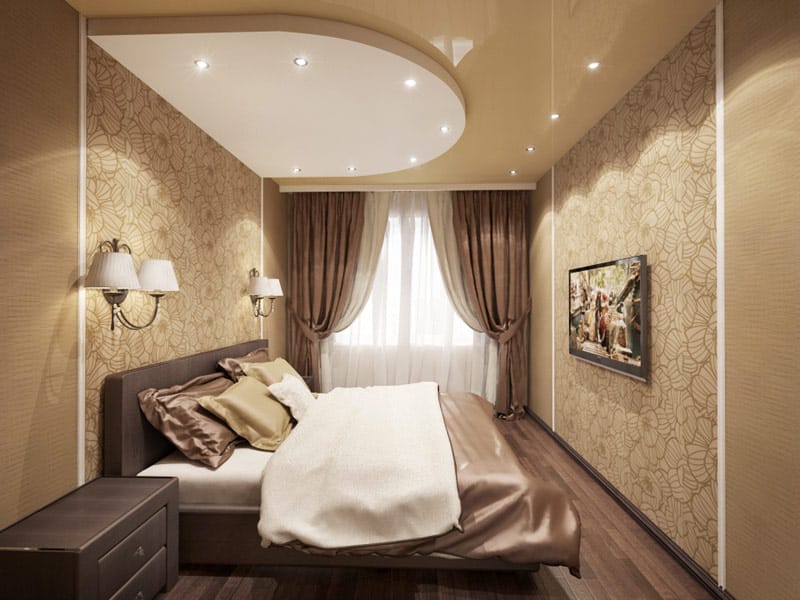 Do you love massive and heavy chandeliers in your home in Dubai? No, you shouldn't hang one in a less roomy bedroom. Because they will offer an impression of a visually cluttered room. Instead, use LED roofing lighting strips or linear and built-in lamps.
Coffered Ceiling Design
Gypsum is one of the best materials for a false coffered ceiling. A coffered ceiling can offer a lot of appearances governed by the material used.
Coffered ceilings look dramatic and provide fine architectural detail to bedrooms. In a coffered ceiling, there are many recesses or indentations on the surface. This design makes the roof look heightened.
Coffered ceilings aren't leveled. Interior designer Dubai experts keep changing the shape and design of the coffer which results in alluring and bold designs.
These false ceilings are patterned in a criss-cross manner that produces a grid-like structure. The crisscrossed rays normally make geometric styles like rectangles and squares.
Tray Ceiling Design
You might have guessed from its name. A tray designer ceiling appears as an inverted tray.
These roofings are installed with recessed lights. These lights will make your bedroom look sleek.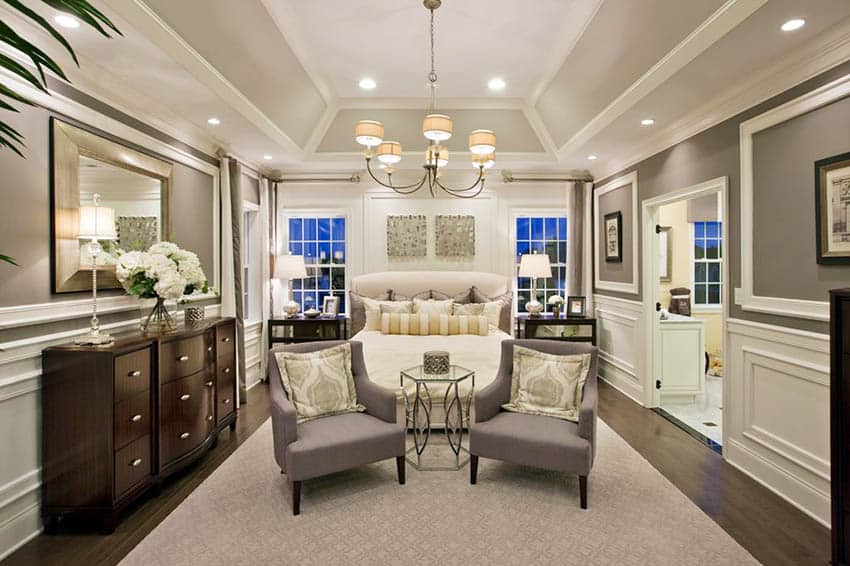 Go for this design if you would like a simple bedroom design. A reliable technical services company can help you in this regard. The cove lights and the recessed LED lights will illuminate your bedroom evenly. Because the tray-like shape of the ceiling will allow them to do so.
In this way, you would not need any other lighting fixtures which keep your bedroom design minimalistic.
Extended Panel Design For Ceilings
Sometimes a wall behind a bed is linked to the false ceiling and that wall is called an extended panel. This panel is also made with gypsum and it should exhibit the same color as the gypsum ceiling.
Make sure that the ceiling and the panel are of the same width as the master bed. The extended panel style is a very contemporary and high-end false ceiling design.
Pastel Themed Ceiling Design
Your bedroom should look like a perfect lavish snoozing place. The outdated and traditional all-white interior looks boring and monotonous now.
A soft and cool pastel color scheme can make all the difference needed. The best part is that by using gypsum, you can throw a pop of colors to the ceiling too.
Need an example? Use white and soothing green-colored gypsum board work. Your bedroom will feel like a bed of roses for you and you would drool off in minutes once you are in your bed.
False Ceiling Design With Long Gypsum Boards
If you are a person who likes chic interior design then this ceiling design should be your go-to option. It will throw a very good impression on anyone who visits your bedroom for the first time.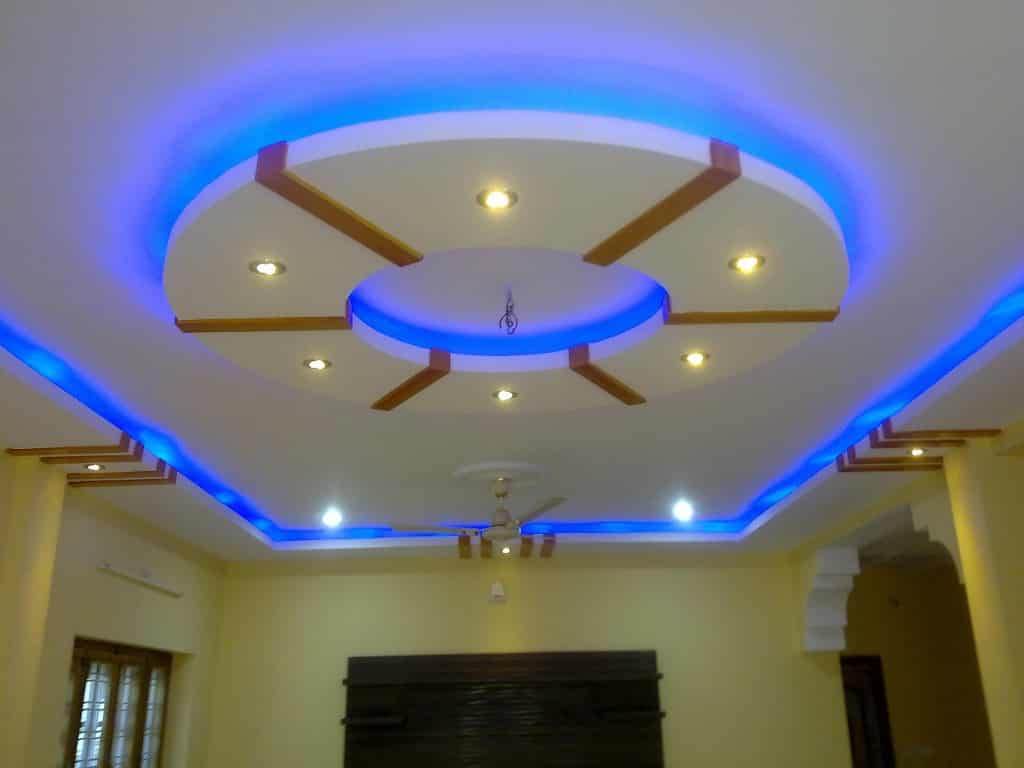 In this design, the complete secondary roofing is constructed with big gypsum sheets in natural white shade. If you would like to make it even more playful and interesting, use sleek strips of light pendants to make the ceiling look breathtaking. This roofing design shows how you can add simplicity with class.
Suspended False Ceiling Design
An interior designer at a reliable technical services company will tell you that floating false ceilings help in accentuating an area. In a bedroom, it's most probably the bed. So, we can install a floating island above a bedroom.
Also Check Out
How Can AI Help You to Design your Interior Design?
The false floating roof is suspended from the actual ceiling. There is a significant gap between both the ceilings. This slit can even be imbued with insulation material. The suspended or floating design gives a futuristic appearance to a bedroom.
These roofings are available in multiple shapes. The most cherished is the square-shaped ceiling.
Vaulted Designer Ceilings
When a vault is created in a roof using gypsum boards, it allows the roof to appear higher than a uniform ceiling. A vaulted ceiling features a self-supporting arch that distinguishes it from other ceiling designs. Dome-sike or conical are the two shapes in which the arch can be made.
Vaulted roofings can only be utilized in stand-alone homes obviously. They use the ceiling structure space that will be otherwise wasted. If you wish to give a rustic touch to your sleeping place, vaulted ceilings can make your dream come true. Owners of contemporary houses choose vaulted ceilings as they can add a bold feeling to any place.
For Best Gypsum and Ceiling Work Check this Out. 
The Colour Scheme for Gypsum Ceiling Designs For a Bedroom
The color palette can make or break the roofing design of your bedroom. No doubt, simple white is the most loved and the safest option because white color complements nearly every color. Monochromatic grey and white make a deadly combination if you want to make a false ceiling look majestic.
If the walls of your room are painted in a soft color, you can get your false ceiling painted in a darker hue of that color. There are thousands of pretty pastel colors. Pick any one of them for the ceiling and it is bound to rock your bedroom.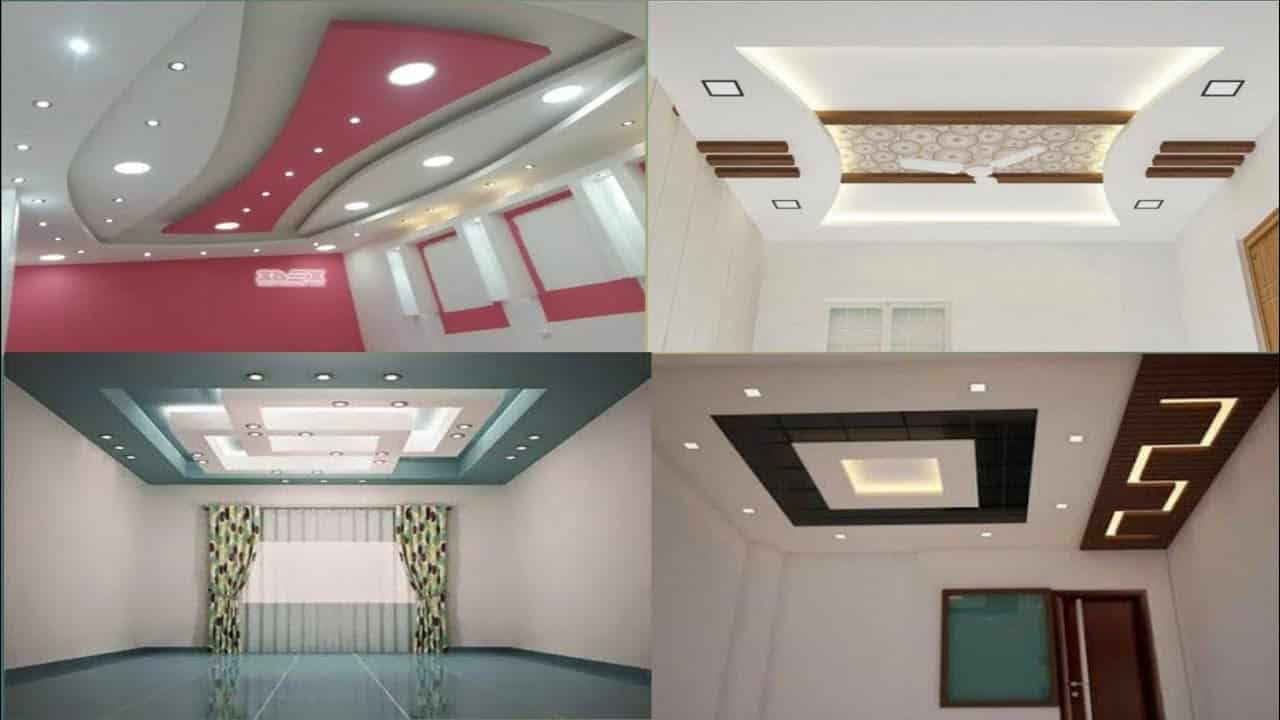 Interior design professionals recommend using pastel tones of pink, grey, blue or green for the false ceilings. These colors are the ultimate choice for the ceiling of any design.
Moreover, the wood color shade is also popular nowadays for the false roofing of a bedroom. This color throws a speck of rust on your room. And if your bedroom has other wooden or wood-colored pieces of furniture or decor, there can't be another magnificent option for you.
Final Words
You might have come to this piece of writing being confused about what ceiling design to choose. We hope that your confusion is now transformed into excitement. When it comes to gypsum ceiling designs for bedrooms, you have infinite thrilling and attractive options to choose from.
Floating island or suspended ceiling style and tray ceilings are the most adored choices for bedroom ceilings in homes of Dubai. Coffered roofings supply bedrooms with a modern twist. Circular style tops the list for bedrooms with a roofing fan. Whereas, vaulted designer ceilings provide a stately vibe to bedrooms.
Pastel and softer color schemes prove to work best for most bedrooms of the homes in Dubai. One exception is very large bedrooms. Otherwise, nothing works better than light colors if you want to make a living space feel spacious and well-ventilated.