We all might have lived or have been living in a small bedroom. Sometimes, you move to a metropolis city for studies, or you just prefer a warm and small space to spend cold winter nights in a cavernous room.
Small rooms present special challenges when it comes to designing and decorating. But small bedrooms are even more difficult to handle in this regard. And the reason is that they have a basic furniture item — the bed.
Guess what? You can design your bedroom beautifully with a large bed and still have plenty of storage capacity. All you need is a couple of bedroom design tricks and color palettes, and you will have a completely transformed bedroom.
How can you do it? Just stay along as we describe the simple things you can do to make your small bedroom feel spacious.
Use light colors
The lighter shades reflect the light that causes the room to look spacious and luminous. Darker hues absorb light which makes the room appear smaller and more contracted.
The professional interior designer Dubai companiesoften suggest a white color scheme as it opens up the place.
Even if you don't make all the room white, you can still use a light and soft color scheme with white. For example, you can use a soft blue color to paint the walls to make your small space appear larger. 
It's better to avoid dark tones while designing your small bedroom.
Say no to curtains
If you don't want to say no to curtains, you should use thin drapes. Sunlight makes a small room look bigger so use it. Curtains block natural light, and you lose a great and handy resource to make your room appear bigger.
Remember unadorned, and bare windows and doors cause your bedroom to feel as if it is a part of the exterior space, making it look more open.
If you are concerned about privacy, you can hire a technical services Company to help you cover your windows and doors with drapes. Just buy thin curtains for them so that light can still shine through.
Vertical space makes the room look spacious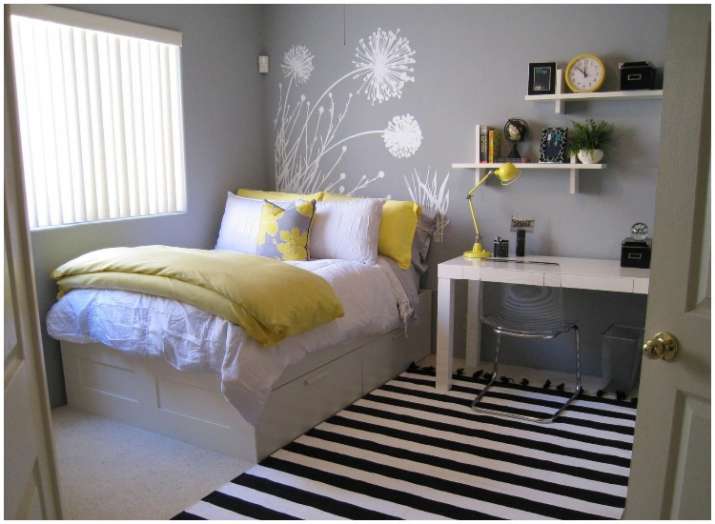 Vertical space can 'lift' the ceiling making your bedroom feel snugger. You can put a bed, small couch, armchair, and a built-in bookshelf, and it will still not look cramped.
You will have more storage area, and the room will look broader than the horizontal space. When the floor area is smaller than you need, then make walls your friends. There are a lot of ways in which you can add extra space to your room by using walls.
Furthermore, this propels people's sights upwards, fooling them into viewing a space larger than it is with effective design tricks.
Also Check:
Latest Gypsum Ceiling Designs For Bedroom 2022
Rearrange your bedroom
You want your constricted bedroom to come off as spacious on a tight budget. Then change the layout of your space as it costs zero money. You might think your small room isn't enough to play around with furniture.
Mostly, homeowners push everything against the walls, especially in smaller rooms. It can make the room feel even more shrunken.
Your bed may be tucked against the side wall blocking you from reaching the other side of the bedroom. Firstly, bring the bed to the center of the main wall in a way that allows you to access both sides.
This small step can make a huge difference in making your room look more airy and unconfined. If your room is small and after pulling your bed to the center of the main wall, there isn't enough space on both sides for you to walk, that's fine.
All we want is to offer more breathing space and flow. It might ask you to sacrifice a side table or install some floating wall cabinets at the top or the side of the bed to create space. 
Keep your bed on the scale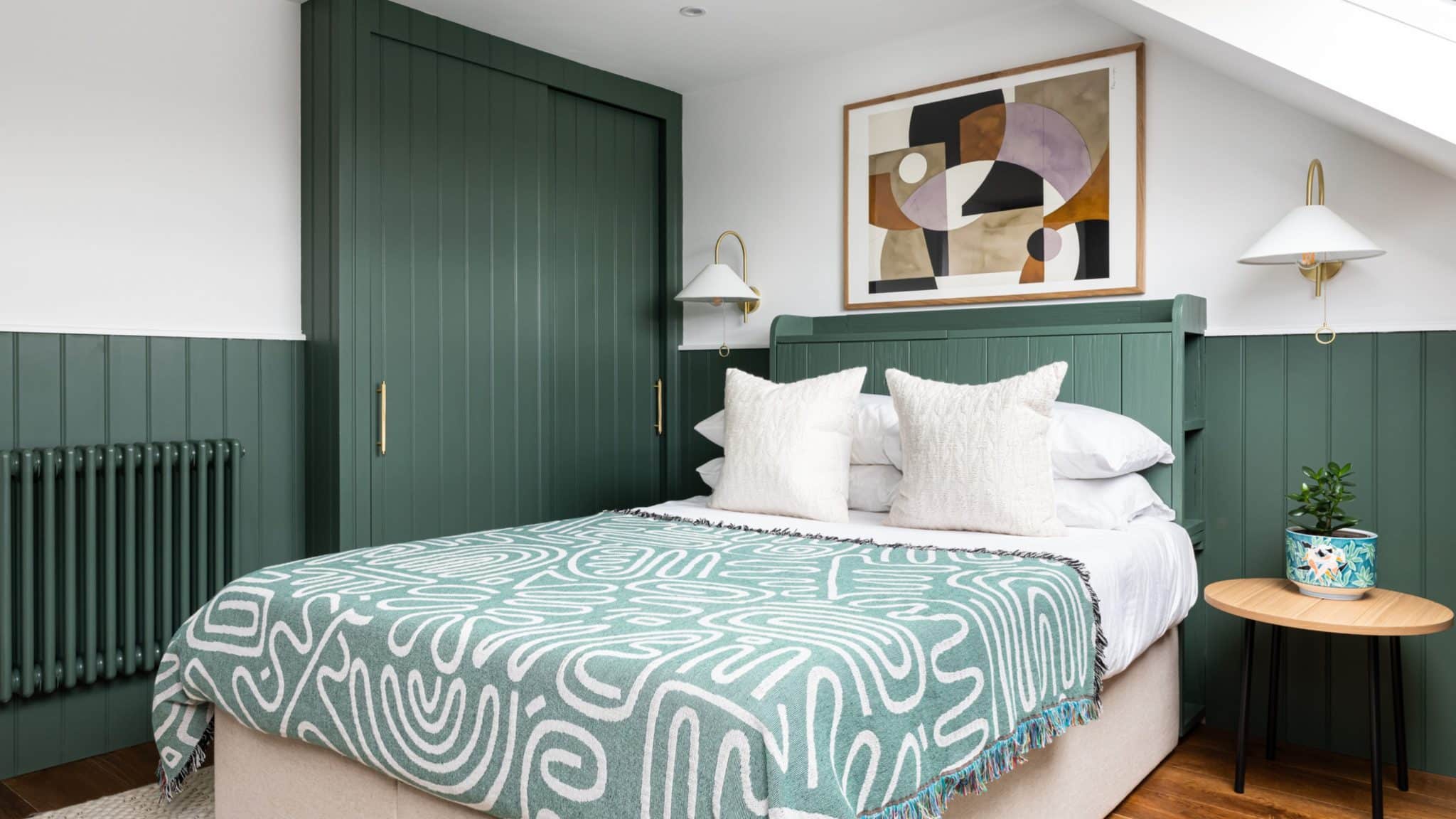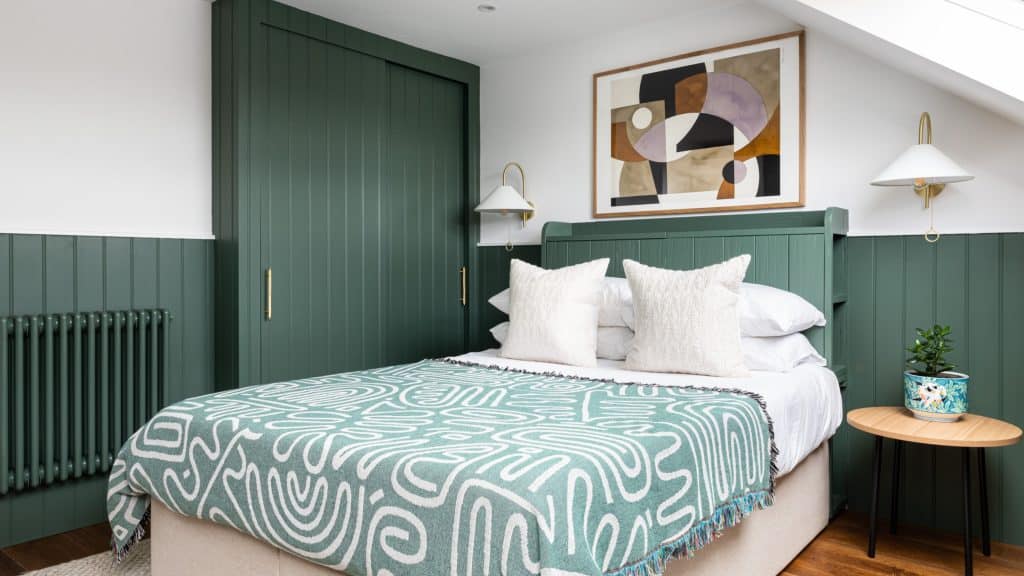 Keep your bed on the scale if you design your bedroom from zero and purchase new furniture. Make sure that your furniture stays in scale. Pick a bed that doesn't overpower the space.
Go for a lower platform bed nearer to the floor if you have enough storage space. It will leave more vertical space empty making your bedroom look capacious.
On the flip side, if you are short of storage, use a bed with drawers attached beneath the frame. These drawers might make a dresser useless, and you will get more space by getting rid of them.
Read more:
Home Renovation The Ultimate Checklist
Bottom line
Many people have to live in small bedrooms so don't think you alone have this problem. It is among the biggest bedroom design complaints. 
To add an actual area, you have to remodel your room. But fortunately, this isn't the only solution. You can use style tips to trick the eyes into seeing the space as roomier than it is.